Demand driver - The real ones!
Which influencing factors determine the need for personnel?
What are influencing factors and demand drivers?
The quantities that systematically determine whether more or less personnel is required at a given point in time are called demand drivers. Typical are e.g. produced pieces per shift, received calls per hour, treated ambulance cases per hour, ... . They can usually be taken directly from the performance data.
Performance and real working hours usually fluctuate considerably - both individually and in relation to each other. Constant sequences are exceptions.
What does the demand really depend on? Can sales and units be simply shifted or is there more to it?
To anticipate: Most of the time it is not that easy. Usually there are one or more influencing factors that significantly modify productivity (e.g. order sizes, processes, infrastructure, season ...). In organizations, there are usually many assumptions about this. Some but not all assumptions can be confirmed in the analysis.

What do know-how and software contribute?
We use existing company data (modernly called Big Data) for the personnel requirements analysis and relate them to each other.
Actual and planned performance

Event data - e.g. vacations, public holidays

Personnel resource planning - what was planned and how was work actually done?

Influencing factors - what else could have played a role?
Our know-how in statistics in connection with working time helps you to a solid calculation method suitable for your daily challenges.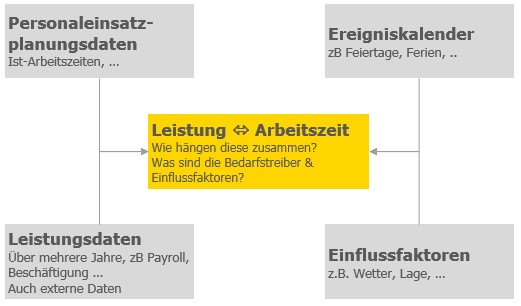 Software around the personnel requirements
Analysis - Evaluation - Calculation - Forecast
Our special software was developed to support you with various topics around the personnel requirement. The adaptability and the specially developed modules allow you to create your solution quickly: Inform yourself about our products: