Flexible working hours
XIMES helps you find solutions for well-controlled flexibility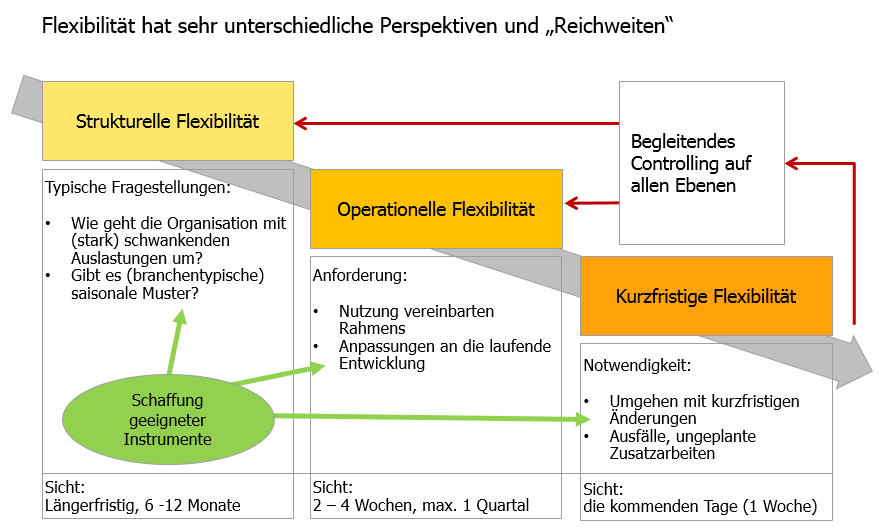 How much flexibility do we need? Do we still have to plan...?
Many talk about it, sometimes the conversations about it become very emotional, and often one finds oneself in almost "philosophical" seeming "faith discussions"...
Flexibility is often understood in very different ways and is often equated with the idea of a lack of planning, or that everything must remain permanently variable, especially the flexible working hours of employees.
However, consulting practice often shows that good flexibility requires very careful control. Only businesses who know their detailed specific requirements can find solutions that are acceptable and legally possible for the employees.
We support you with our expertise and special software solutions!
Consulting for sustainable flexibility
Calculate staffing requirements and variability
Which special requirements arise from demand (customer/market)?

Which temporal structure can be recognized, which time horizon is needed for planning?

Which demand drivers can be identified?

How much fluctuation can be measured or expected?
Designing flexibility instruments
Which design perspectives can be found?

What kind of flexible working time models can be useful and what other instruments are needed (temporary staff, temporary outsourcing, etc.)?

In which legal framework do the solutions have to be found?

How to design control process?
Implementation and controlling
Involvement of all affected parties and stakeholders

Concrete design of the model and the rules required for it (including the necessary legal agreements)

Securing the supporting administrative tools

Creation of the necessary controlling instruments (incl. reporting and work hour / performance controlling)
XIMES tips on how to introduce flexible working time models:
Analyse your business flexibility needs
What are the concrete requirements...?

Which information is available and which instruments are used for current control?

Which data and facts can be used on which planning could be based?
Definition of realistic goals and a planned design process
What do you want to achieve?

Who must contribute to the solution?

What time frame do you plan for the redesign?
Knowledge building
Is there sufficient know-how in the organisation?

Which experiences can be used?

Who can be supportive?

For which parts of the process might external support make sense?
Start a concrete implementation project
Project assignment and project organization

Budget and timeline

Think about a pilot area to test and evaluate concepts