Annual planning

"...I would have needed more staff..." should never have to be said again!
What is included in the annual planning?
Hiring and training employees is expensive. Separating from each other is also painful. Having too few personnel is just as expensive.
Annual planning helps to plan personnel requirements and personnel capacities for months and years quickly and clearly (typically on a weekly basis). This allows you to take countermeasures before it becomes expensive and painful.
The four central influencing variables
Employment histories - What fluctuation and absenteeism can be expected? How long does the training take? ...

What would be possible scenarios for the personnel structure (number, part-time, leasing ...)?

Performance and working time - Which working time models are possible and how much performance is achieved? What are the influencing factors?

Which orders do I already know and what are possible scenarios of future performance requirements?
Examples of set screws and results:
How will the time accounts, overtime ... develop?

What would be a good personnel mix in terms of qualifications, scope of employment, external & internal, training ...?

What costs may be incurred?

...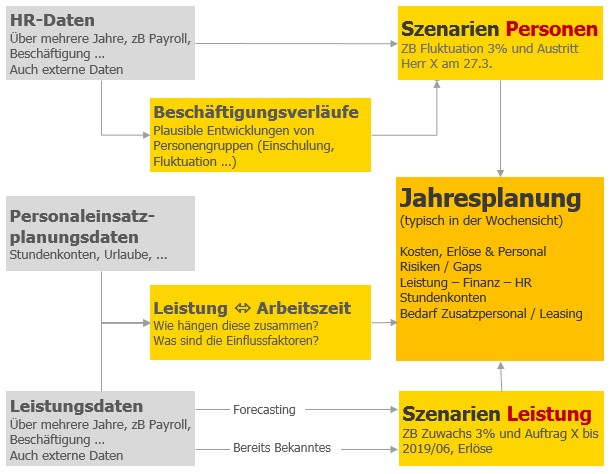 A small example
In one company there were
Three scenarios for sales next year with 600, 700, 800 machines produced.

This resulted in a varying number of weeks with the need for 10, 15 or 17 shifts.

In addition, it was discussed how many people can go on holiday at the same time in summer.
The key questions were:
How many full-time positions would be possible or required for leasing personnel?

What additional costs and training times would be required to increase staff numbers?

Would the agreed hourly accounts be sufficient?

What would change if ... people would work part-time?
In the end, it was a difficult decision to make: How much stability of employment and continuity of qualifications did the management expect to be able to maintain?
The scenarios calculated in the course of the annual planning provided security. Key figures now serve to monitor the actual development and allow timely adjustments.

technology
In our TIS technology , we set up projects with adaptable building blocks. This means that existing analysis tools can be used immediately and at the same time easily extended for special questions.
Existing data from various systems of our customers (BDE, time recording, wage ...) can be merged, conveniently managed and compared. Scenario calculations and crisp analysis reports create added value for different stakeholders.

Basic understanding
We need a solution that is tailor-made for your task and, if possible, accepted by all parties involved:
Already known information must be included (e.g. orders)

Unknown information (e.g. estimated orders) must be made editable in scenarios.

The specialties of the legal framework conditions must be represented

Important result variables - hour accounts, overtime, idle time ... - become calculable

Important control mechanisms must be mapped in the system

Procedure
We are looking for the solution that exactly meets your needs - neither will you be overwhelmed with options nor do you miss important ones:
Which data can be used? What is required?

Which adjusting screws are important for planning?

What flexibility can working time models provide, what other flexibility is available?

Advantages
Alternatives are evaluated visibly and comprehensibly

Problems are recognized early and are therefore much smaller, costs and conflicts are avoided.

All those involved have the same understanding, the same information - a necessary foundation for decisions that hold even in "rough seas".