Performance-related remuneration
Our payment is based on performance - quickly put, but what does it actually mean...?
"At our company, performance is the focus of payment" - how this can be achieved in practice...
What does an organisation actually mean by performance and how can it be "measured"? How do task contents and qualification play into the considerations of payment? What significance do wages and salaries have compared to a premium or a bonus? Another interesting question is surely: Whose performance is actually the focus of the considerations? That of an individual, or that of a team or department? And most importantly, how do employees and managers cope with the concept? Does it fit in with the leadership and corporate culture?
What matters, if you want to deal with it...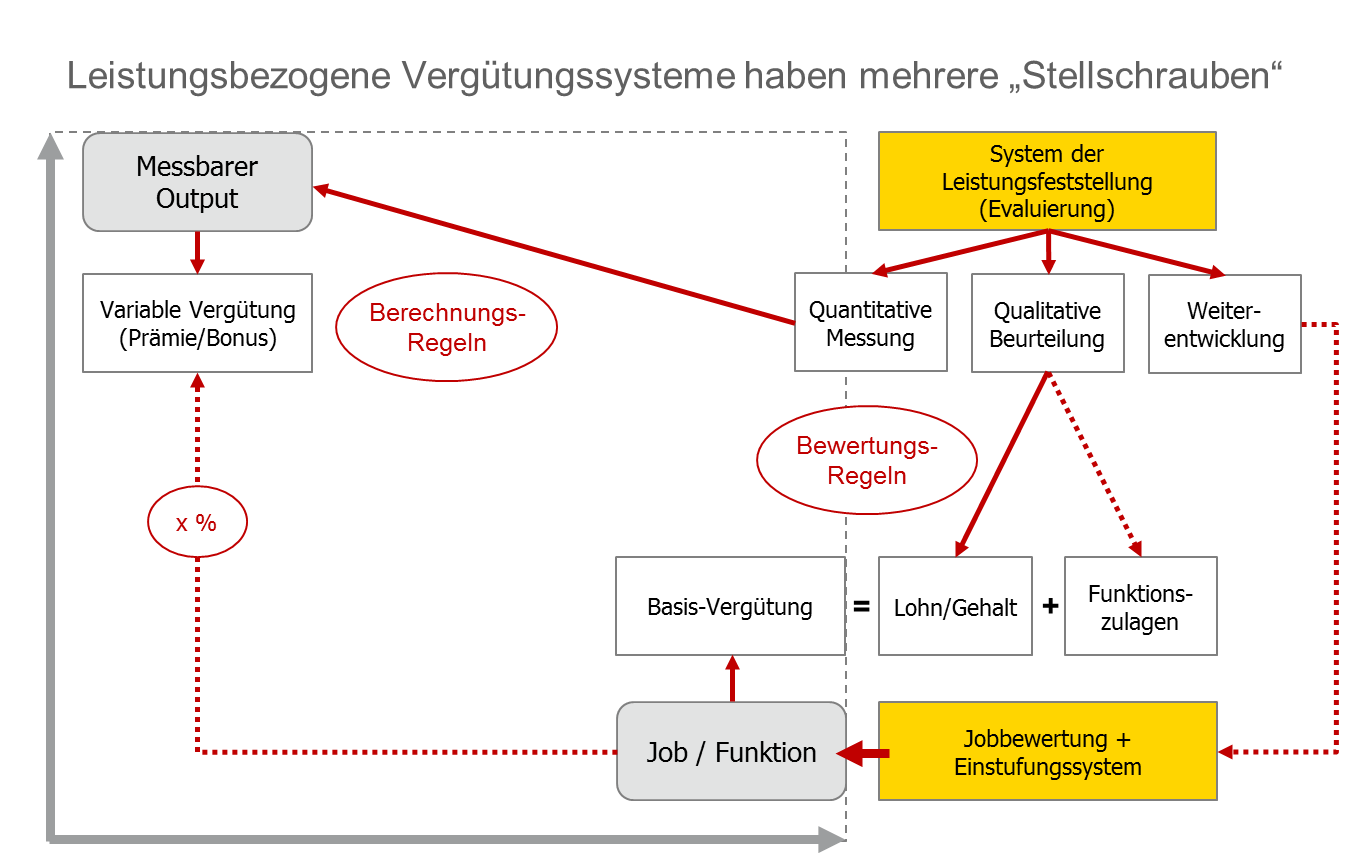 Lay the groundwork
Analysis of the initial situation

Clarification of goals and expectations for performance-related pay or variable remuneration

Definition of the organisational and economic framework

Clarify participants, affected persons and their roles
Develop remuneration concept
Selection of the appropriate basic model, e.g. performance bonuses, bonus systems, coupling of salary and performance

Definition of the main criteria and control system

Development of calculation and evaluation rules

comprehensive simulations
Professional implementation
project-based processing

realistic timing

secure the legal framework

create administrative conditions

Information and training for all stakeholders (employees and managers)
What could be concrete steps for further action?

Clarify whether the topic is to be processed structurally
Who strives for a possible change?

What are the reasons for a redesign? What disturbs the current payment system?

Do you want to change the payment of individual groups of people, or do you need an "overall concept"?
Discuss the possible objectives and clarify the framework.
What are the main objectives of a new/different payment model? Are there any relevant constraints to be considered?

In what economic context should the new system operate? What organisational conditions should be considered?

What timeframe are you aiming for? How soon should the new model be available?

How do the desired changes fit into the strategic planning of the company?
Ensure the technical know-how
Who in your organization is familiar with the current system?

Do you have any team members who are familiar with the subject matter?

If necessary, consider an appropriate qualification in a first initiative - possibly use the XIMES seminar offer for this.

Also consider to what extent you would like to make use of external professional support.
Start the project
Define project - Appoint project manager and project team - Define budget and timeframe

Structure processing as a process (work meetings, reporting, reviews ...)

define clear decision-making processes and responsibilities
Was wir zu Ihrem Projekt beitragen können?

Moderation of workshops for the development of your customized payment system

Simulation calculations to estimate the economic impact of possible changes

Accompaniment and support in the overall process

comprehensive and comprehensible documentation