Personnel requirements and calculation of personnel requirements
Knowledge, methods and tools for determining requirements
Table of contents
Introductory remarks
What is personnel requirement determination / personnel requirement determination / personnel requirement planning?
The assessment of personnel requirements attempts to determine the required personnel for a certain performance level quantitatively and qualitatively (knowledge, skills, formal qualifications, etc.). This is often done with scenarios (e.g. depending on the development of the company).
In service sectors, is a detailed determination is required of how many persons
at what times

on which weekdays
are required. In some cases, further differentiation is made according to time periods (e.g. season, holidays, peak demand ...) and locations. The required accuracy can go down into the minute range, often intervals of 15-30 minutes are sufficient. The planning intervals can be short (e.g. new planning every day or week - e.g. case-by-case in the transport area) or very long, so that, for example, new planning is only carried out every few years.
In the office and industrial sector an exact daily and weekly allocation is usually not - or not exactly - necessary. In industry, however, service-like requirements are becoming increasingly important in the core areas (e.g. warehouse management, materials management, quality control).
The determination of personnel requirements creates the basis for being able to discuss whether personnel is optimally deployed at all:
there is always just as much personnel as it should be, and

not sometimes more (unnecessary costs) and

not sometimes less (work pressure, quality problems, benefit reductions)

taking into account the Working Hours Act and collective agreements, health & social issues as well as accident risks.
Calculating personnel requirements is therefore important for company management (improved performance, lower costs), but also helps to reduce/avoid conflicts over resources between departments or groups of people.
Our products for personnel requirements analysis and determination at a glance
Net and gross personnel requirements
In the classical sense
In the literature, gross and net personnel requirements are usually defined as follows:
GROSS REQUIREMENT= required or planned headcount

NET NEED = Gross Personnel Requirement - Actual Headcount
Net and gross personnel requirements in terms of working time management - Overview
From the point of view of working time planning, a different definition is often used, which is more oriented towards planning:
NET NEED = Personnel requirements EXKL. Reserve for sick leave, etc. = what hours of work are required?

GROSS REQUIREMENT = Personnel requirements INCL. reserve for sick leave, etc. = what total personnel is required?
Term

Explanation

Net personnel requirement

What is the need for hours of work that would be required for a particular area?

Here it is about the pure planned and/or necessary person performance hours or reserved times without everything else. So only times which would be indispensable also with completely different organization of working times count to it.

If, for example, a specific preparation is required before each work step, the time for this would be part of the net time. If this preparation is required only once per work start (and therefore depends on the frequency of work starts and indirectly on shift lengths), it is not necessary.

Hours from under- and overcoverage by services and planned staffing levels
Hours of undercoverage and overcoverage resulting from the specific design of the services/shifts (e.g. because services may not fall below a certain minimum length, but at the same time a very short peak demand must still be covered and overlapping is not possible at this point for other reasons) are deducted from or added to the net personnel requirement.
Other hours worked or not worked

Under this heading, those hours are added which are indirectly related to the provision of services. These are, for example

Waiting times between work orders,

Times for change of location, procurement of documents, etc.

Handover times or general preparation times (e.g. briefing)

Paid breaks during which no service is provided

Coordination and meeting times (ATTENTION: These may have an hourly requirement depending on the number of employees, which may necessitate going through the planning steps several times).

Those hours are omitted which, although incurred as performance hours, are not remunerated as working hours:

Breaks during which the machine or service operation continues to run but which are not counted as working time.

Reserve for absences to be covered

If absences are actually to be/need to be replaced, the corresponding hours are added. This applies in particular to

Vacations

Sickness

Further education

Note: In many organizations, relevant parts of absences are not replaced (e.g. frequently in hospitals, offices).

Surcharges in the form of time credits

In some systems time credits are added. These result, for example, from

from the location (e.g. night work is compensated with more time credit than day work because it is more stressful)

from the possibilities for reducing time credits (some systems provide for different regulations depending on whether the reduction is possible in the form of whole days or only on an hourly basis, cf. e.g. Handels-KV in Austria)

from notice periods or shift rules (for example, a very short-term arrangement of working times can lead to time credits)

from hourly volumes (e.g. Austrian Working Hours Act: If there is too much deviation from the agreed part-time volume, surcharges in the form of money or time credits are added)

Additional hours/ Fewer hours due to planning restrictions

In the concrete planning, further changes can arise with regard to the hours from the framework planning. This is about shifting hours to heads. E.G.

Although theoretically 17.5 jobs are required, 17 is planned. (Less hours of 0.5 digits)

Theoretically, it takes 78 digits. But the decision is made to work with 4 teams of 20 people each. (Additional hours of 2.0 jobs).

As the maximum working time is 50 hours per week, more heads are required to catch particularly high peaks in individual weeks. This results in additional hours for coordination ...

Minimum credits of 20 hours per week result from the calculation regulations, even if there is less work to be done in individual weeks.

Gross personnel requirement
The personnel requirement resulting from the net personnel requirement by adding or subtracting the above-mentioned hours. With the desired target working time per capita or the mix of full-time and part-time, the personnel requirement can be calculated directly expressed in jobs.
Time horizons of observation
In which periods of time do you consider the personnel requirements?
A classical subdivision with regard to the time horizons of the personnel requirement determination would be
strategically

tactical

operativ
For all 3 levels the same procedures are applicable in the core and their results usable. The difference lies typically in the circle of the participants (e.g. strategic = top management level) and in the frequency of the use of the results. In the longer-term perspective, volume considerations tend to dominate. Depending on the complexity of the gross requirements calculation, a detailed calculation may also be necessary at the strategic level.
XIMES Software and Know How for Personnel Requirements
The XIMES OPA - Operating Hours Assistantsupports you in determining personnel requirements.
Easier to analyze and optimize needs and processes

Define or generate services and staffing levels

Calculate reserve and personnel requirements
In the XIMES Academy, we offer various seminars on personnel requirements. Or let us train you as a working time manager!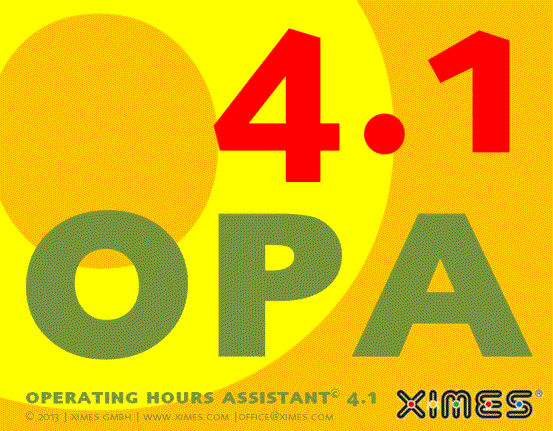 Procedure Net requirement
Procedure for determining personnel requirements
The procedures presented here serve to determine the net and gross personnel requirements, i.e. how many persons are required at what time and on what day.
The boundaries between the approaches presented are not always sharp, but there are different focal points. Ideally, the assessment should be carried out using several different calculation methods and in discussion with the parties involved.
Term

Core idea

In (almost) all organizations, vast amounts of time-related data (e.g. working time data, cash data, operating times, pieces produced) are generated during operation. These can be used to determine personnel requirements.

Advantages of the approach

Instead of collecting new data with expensive, tedious and error-prone surveys, the use of existing time-related data brings enormous advantages:

These data are often characterised by high quality/reliability because their collection is important for other tasks/departments and much attention has already been paid to them.

They are often available for very long periods of time.

Your procurement costs little.

Disadvantages/risks of the approach

Large amounts of data usually have to be cleaned and processed (exactly this is facilitated by our softwareTime Intelligence Solutions - TIS ).

If the data is "co-used" for an evaluation other than that originally intended, this may conflict with the interests of the "data collectors and administrators" and must be carefully coordinated.

If the data is used to evaluate not only demand but also the performance of groups or individuals, conflicts are foreseeable and the use of the data for better organisation of working time and processes becomes more difficult. One possible solution could be to make the data anonymous.

Examples of data

A large number of data sets can be available. Examples:

Working time data:

Branch number

Planning area

Period

Time FROM (for example, start of work from time recording)

Time UNTIL (e.g. end of work), or

Number of employees in time interval at work, absent,...

Break minutes included therein

Trade - Cashier:

Branch number

Number of receipts

Value

Number of rows/sales units

Other activities (e.g. postal services, telephone, information, complaints, ATM)

Self-scan by customers

Lotto, vouchers, external delivery notes

Proceedings

Analysis and calculation of requirements

What is the need if different indicators are used (possibly in combination with indicators for work required per event)? - E.g. sales, calls, pieces produced ...?

The focus of the analyses is to understand how demand and work input relate to each other and whether there are patterns.

With forecasting, historical influencing factors are identified and used to predict demand. Often service levels or security levels have to be defined based on these factors. A number of methods are available for this purpose (e.g. for call centers).

In many areas, benchmarking of personnel and performance based on this data allows the comparison of total requirements.

Examples of results

Very strong statements can often be derived from such analyses:

E.g. in the service sector: When was a sales counter under and over occupied - in conjunction with an estimate of which sales process takes how long? IMPORTANT: it is not calculated with a fixed time per event (e.g. 5 minutes per ticket sale), but it is possible to judge when other times are to be used, because processing times often differ (e.g. regular customers buy their weekly tickets primarily Monday morning, travellers buy their weekly tickets less often and if they buy single tickets at other times).

What is the relationship between productivity and presence? Is it possible to work with a thinned team at night? .... An article on this topic.

How to calculate exactly?

With regard to the fineness of the time analyses, the acquisition/analysis should be

must be at least twice as accurate as you want to plan later (see sampling theorem). Example: It is planned to design services in 1/2h intervals later. Then the recording and evaluation should be accurate to at least 15 minutes.

even more accurate, so that patterns become more visible in time.
Classic personnel requirement calculation
Procedure for determining requirements
A large number of classical methods exist (e.g. time studies). Their application is often complicated by the fact that there are too many changes and uncertainties, so that e.g. average times are not well applicable.
Sales as an example: The duration of sales processes depends strongly on customer structure (students, office workers), time of day ... depends. An excessively simplified procedure in the sense of '3 minutes per sale' does not do justice to the matter. A more detailed survey quickly reaches its limits.
Determination procedure
Depending on the task, different processes are suitable:
Task and process oriented planning represents an important approach in certain areas with regularly recurring processes. Examples:

Stand-by, supervisory and guarding tasks

Which work steps have to be interlinked and how, and what are the consequences in terms of demand?

Qualification planning with activities (e.g. rescue)

Planning via the definition of activities (e.g. hospital)

Non-recurring tasks involve the planning of concrete work (e.g. construction sites, major maintenance work). The focus here is on improving the budgeting process.

If the number of jobs cannot be changed (e.g. due to staff shortage, short-term nature, financing), budget-oriented approaches are also interesting.
Scenarios and Simulation
With the help of scenarios of future development (e.g. growth, standstill), effects on personnel requirements/hour accounts of employees can be estimated on the basis of other methods.
In close interaction with actual data and key figures, additional insights can be gained through simulation:
Where's the bottleneck?

Where do queues arise, what is the bottleneck?
Ongoing monitoring
Closely related to the determination of personnel requirements is the area of capacity utilization and flexibility controlling. Here, a comparison is made on an ongoing basis between the target personnel requirement and the actual personnel requirement and attempts to improve the predictability of the requirement in the sense of quality circles and to develop its own planning mechanisms accordingly. - Documentation is important. Technical aids can make this procedure much easier.
Cross connections
Selection of a procedure for determining net requirements
Policy considerations
The selection of suitable procedures is crucial for a high-quality determination of personnel requirements. Two perspectives can be distinguished:
In the classical perspective, it is about the implementation of a procedure that is carried out as precisely as possible and produces the desired result.

In the variant developed here, the demand is both lower and higher:
Less, because we are aware that the personnel requirement can never be determined 100% precisely. There are too many uncertainties, changes, variances ... And you can't invest too much time in the question, because it's usually not justifiable in terms of costs ("don't make a dissertation out of everything") and "the world" changes too fast. Therefore, the goal should be to find "only" a sufficiently good estimate of the pesonal demand.

Higher because it is conscious that each of the procedures has weaknesses and blind spots. Therefore, several procedures should be applied as cost-effectively as possible (e.g. use of different data sources for plausibility checks). If the different methods produce similar results, this is wonderful. If not, the process has to be reworked. Plausibilisation and examination of the results are in the foreground, if possible "light-footed" procedures should be applied.
Selection of procedures: An example
The personnel requirements for the work of physicians in outpatient departments are to be determined. In the background is the question of whether more physicians are required in total. The following mix of procedures is an initial starting point:
Basics:
Statistics on outpatient visits (patients and type of visit)

existing personnel

Time estimates by participants for workload per patient

working time records
A possible course of action:
Estimation of the need with participants regarding the situation (e.g. with the determination procedure, see above) and comparison to the actual application

Plausibility check, whether total times, which result - in the last years - from the total number of visits multiplied by time estimate, fit to the total hourly budget of the physicians after deduction of the attendances and times for other works

(Rough) benchmarking of personnel and performance to corresponding department in other hospitals or comparison to time catalogues as provided for some industries

Check whether the position of the working times matches the corresponding number of patients or whether peaks in demand are not synchronous with peaks in working time input

Checking whether overtime and overtime are caused by peaks in demand or increased absenteeism or whether they occur regularly (and perhaps even increase as more doctors are present during the day).
Procedure Gross personnel requirement
Precise procedures for determining gross personnel requirements
In order to really know the total personnel requirement (gross personnel requirement) for a certain net personnel requirement, a very concrete solution is required in many cases. This means that shifts, staffing levels and all other factors are precisely determined or calculated. The XIMES OPA - Operating Hours Assistant offers a lot of support here. This can be time-consuming in some cases and is not possible in the early stages of consideration. Accordingly, approximation procedures/estimation procedures are required on a case-by-case basis.
Approximation procedure for the gross personnel requirement determination
Term

Objective

Approximate but faster estimation of personnel requirements.

Step 1: Personnel requirements resulting from net requirements

Calculation of the hourly volumes as a basis for further calculations.

Step 2a: Personnel requirements resulting from underfunding and overfunding - simple cases-

These are cases in which there is usually little or no underfunding and overfunding.

one or a few, low and short hills or valleys, which lie about half a layer apart,

In most cases, the tips can be detected by extending or shortening the layers.

NOTE: If very long and very short shifts are possible, the possibilities grow significantly.

one or a few, approx. one or 2 layer lengths long hills or valleys

Here additional layers fit into the hill.

for (additional) hills sufficient number of part-time shifts planned/makeable

Here, these part-time layers intercept the hill.

Step 2b: Staff requirements resulting from under-recovery and over-recovery - more difficult cases-

If one or more of the factors described below have an effect, underfunding and/or overfunding will occur. If only one of the factors listed below is effective, it is often possible to make a direct estimate of the resulting undercoverage or overcoverage. When several factors interact, the exemplary solution with precise procedures is the (relatively) simpler way.

PREPARATION

In the following consideration we always speak of pedestal and point. It could also be called the other way around (plateau and valleys), but it comes out in the same way.

From an approach point of view, there are the following combinable strategies for avoiding or reducing shortages and surpluses:

Layer extensions to cover the peaks

additional layers to cover the peaks

Minimization of the under- and over-coverage by planning across the tops

(the very demanding) shared services or shifts

Factors that make layer extensions to cover the tips more difficult or impossible:

Very high peak(s)

If the tip has more than twice the height of the base, it is no longer possible. The corresponding part of the tip cannot then be covered (undercover). Or you need additional layers (the height of the tip that is covered by it multiplied by the difference between the minimum length and the duration of the tip gives the overlap).

Too much peak volume from one or more peaks, which does not go out with layer extensions and which are so short that no own layers go out.

Usually there is a feeling as to whether this is the case. If it is to be calculated whether this is the case, then the following limitation applies: Scope of the peak volume that can still be covered <= (maximum length of layers - average length of the base layers) * Number of base layers

Example:

Peaks from 6:00 - 9:00 with 2 persons and from 12:00 - 15:00 with three persons.

The peak volume is then 3h * 2 persons + 3h * 3 persons = 15 person hours

If the base consists of 6 layers, each 8 hours long, and the maximum layer length is 10 hours, then - even if the layers are in the most favourable position (i.e. 2 layers start at 9:00 and could be extended to 7:00) - they can still be covered to the maximum.

6 * (10h - 8h ) = 12 person hours.

This means that the two tips cannot be covered.

Many factors, however, can lead to the fact that this theoretical hourly volume available for peak coverage cannot be achieved in practice (e.g. insufficient shiftability of certain layers at night; desire for a few layer types, unfortunate spacing of the peaks).

Factors that make it difficult or impossible to cover the tips with additional layers:

1 Too narrow peaks or unfortunate width: If the width (= shortest pairing of ascents and descents) of the peaks is below the permissible minimum length of the services, for example, or if so many shifts were required that the stakes per week (key figure) would become too high.

There are unfortunate lengths here (e.g. 5h is often too long to be covered by the extension of 2 layers, and too short for one layer, 13h is almost always too long for one layer and too short for two).

2. Too close peaks, or peaks with unfortunate distances, which have in their total height more than the height of the pedestal

If peaks are too close to each other, the peaks can no longer be intercepted by successive layers. They must be different. This, however, reduces the height that can be covered, which otherwise includes the height of the base for a tip (for the total length of a layer, in the best case a total height of all these tips can be covered at the height of the base).

The same applies if the distance is greater than the permissible maximum length, but the layer cannot be divided.

If several of the above characteristics complicate the situation, or if the minimization of under- and over-coverage is to be achieved by planning across the board, the XIMES OPA - Operating Hours Assistant must usually be used to calculate scenarios and exemplary solutions. The same applies if shared services or shifts or new/complex part-time models have to be considered.

Step 3: Further personnel requirements resulting from the number of shifts and their characteristics

e.g. from breaks, shift length

If complex repercussions have to be taken into account, e.g. a precise break planning is required to determine the coverage of the net requirement, a rough estimate quickly becomes very inaccurate. Here, too, a detailed solution is required. If only volume is at stake, appropriate factors are sufficient.

Surcharges in the form of time credits for certain layers of layers or lengths are included here.

Step 4: Further personnel requirements resulting from absences
e.g. for illness, vacation...
Step 5: Further personnel requirements resulting from the number of persons or certain hourly volumes per capita

The above times are converted into personnel requirements by dividing by the desired number of hours or the number of hours is calculated by dividing by heads.

In part, the additional requirement results from the addition of headcount dependent variables such as supervision time per person, meeting times ... The calculation of additional times, which depend on certain limit values (e.g. from 10h night work per month, there is 1h time credit), is also time-consuming.