Shift Work and Scheduling
Innovative solutions for your needs!
Flexibility, law, ergonomics, the wishes of the workforce - can all be reconciled?
How do I optimally cover my needs? How do I build in flexibility without putting too much strain on the employees? How do I take qualifications into account? How can good shift scheduling avoid conflicts?
These and other questions are often difficult to answer without expert knowledge. Take advantage of our over 20 years of experience! aus über 20 Jahren! Whether it is the extension of operating times, changes in operational requirements or very flexible and constantly changing customer requirements - we support you in the design of shift schedules that suit your needs, take the interests of the employees into account and are based on the latest ergonomic findings on shift work.
Working ime models
develop professionally
Create your own shift plans as part of a seminar.
First contact Consulting
A Senior Consultant will gladly call you back without obligation!
Our Approach
We work with you to develop solutions that are accepted by everyone and sustainable. Thereby, we deal with tension between different fields:
Operational needs and costs

Consideration of labour science findings and recommendations on the organisation of working time

Wishes and interests of employees

Legal framework, e.g. Working Hours Act, Collective Agreements / Collective Agreements
For a functioning process, all participants are involved, e.g. management, staff representatives, employees, shift planners, ...
Procedure
Based on the actual situation analysis, demand calculation and shifts/services (often designed with theXIMES OPA - Operating Hours Assistant), a framework is developed that is as stable as possible and at the same time addresses all eventualities.
The key questions are:
How do you optimise cover of demand with early shifts, day shifts, late shifts, etc.?

When should how many people come in?

Are there any fluctuations, and if so, which ones?

What is an acceptable personnel under- or over-coverage compared to my expected needs?
The XIMES software tools [TIS], [OPA] and[SPA]are used in this process at different points.
Advantages
Our experienced consultants support you in the development and evaluation of various working time models and shift schedules.
With our workshop sessions , concentrated and result-oriented cooperation is particularly successful.
The participation-oriented approach forms a good foundation for informed decisions.
Due to the close integration of science and practice, current findings are included in shift scheduling.You can rely on our professional project management, thorough documentation of meetings and agendas as well as quantitative and qualitative controls.
Continuous operation in Production
Starting position
At a production company, the increase in production demand necessitated the switch from a 3-shift model with overtime already becoming the norm on Saturdays to a fully continuous model.
Outcome

A shift plan and an upstream transition plan were developed at short notice to help the company meet market demands. Subsequently, additional plans had to be developed in the warehouse and laboratory to support the production area. In addition, discussions with employee representatives were moderated.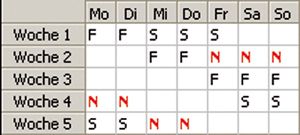 A basic model with a 5-week cycle was selected in which a low weekly working time (32:30 hours) resulted in a paid weekly working time of 39:30 hours by including time supplements. The part-time model with full-time pay was received so well that the recruitment of 120 additional employees for the fifth shift group went smoothly.
The model has been running for years with great success. The order books are full. The human resources department names continuous operations its most important marketing instrument, alongside ongoing investment in training, health and safety programmes and annual profit sharing.
Service: Systematic simplified shift scheduling
Starting position
A shift model with two weak points existed at the ServiceCenter in Vienna: On the one hand, the times required by the company - especially at night - were only covered to a limited extent; on the other hand, the employees were dissatisfied with the system:
they wanted better recovery after night work

part-time workers preferred to work more hours a day in order to work fewer days a week.
The aim of the project was to ensure uniform coverage and a regular and identical shift sequence, taking into account the wishes of the employees.
Outcome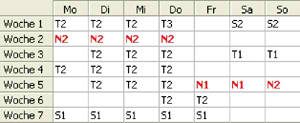 The model chosen from three alternatives (see illustration) guarantees 3 or 4 rest days after the night blocks and regularly distributes the weekend free time.
Part-time employees work according to the same model, but with fewer day shifts, which also met the wishes of this group.
The model was very well received by employees and fulfills the company's general requirements.
Health sector: Adjustment to unexpected market demands
Starting position
Due to the unexpectedly high market demand, the weekly operating time in a department had to/should be increased to the maximum possible level.
Result

A shift schedule and a transition plan were developed at short notice to help the company meet the changed market demands. Subsequently, additional plans had to be developed in the warehouse and laboratory to support the production area. In addition, discussions with employee representatives were moderated.
Health: better working hours - a systematic approach
Starting position
Der traditionsreiche Sozialdienstleister Social Global, a social service provider with a long tradition, provides services for predominantly older clients. Visiting patterns range from once a week to three times a day. In addition, the client base fluctuates strongly and at short notice due to the specifics of this age group.
The aim of the project was to examine the load drivers that can be influenced by the organisation of working time, such as length, structure, type and number of (shared) services, as well as the stability of duty rosters and their change structure.
Outcome

The service is provided by numerous planning entities, which all perform the same tasks but have a different size and employee structure (part-time). Therefore a normalized, structured comparison of the planning groups is a valuable and meaningful instrument for the analysis and optimization of the design within the framework of the structure and the planning practice. More than 25 key figures were developed in the project and visualised
(e.g. client frequency, frequency of deployment, workload (number of deployments per full-time equivalent), short-term sick leave).
All analyses carried out within the scope of the study showed no dominant structural dependencies. Conversely, however, this meant that the structure could be chosen in such a way as to require optimised planning practice. Since there are clear differences between the planning areas, these are identified improvement potentials which can be raised. To this end, best-practice workshops were set up in which planning rules were developed.
All in all, an alignment of the standards towards the top was achieved and the overall situation of the employees was improved in many areas.
How you could proceed further...
Determine internally whether a shift plan changeover is an option for you.
Have processes, procedures, products, requirements, ... changed?

Is there an increasing need for flexibility?

Are employees dissatisfied with their working hours?

Do you want to increase your attractiveness as an employer by offering innovative working hours?

What are the expectations of the employees and their representatives (works council)?
Define the goals you want to achieve with the redesign
What do you want to achieve?

Who must contribute to the solution?

What time frame do you plan for the redesign?
Think about a concrete project for processing
Who should play a leading role in the design?

Who can manage such a project?

What timeframe do you want to provide (e.g. implementation date...)?
Consider what support you might want to use
Is there sufficient experience and know-how in your organization with such projects?

Can the issue possibly trigger tensions and conflicts?

Does a good balance of interests possibly require external moderation?
Questions about shift plan design
What are recommendations in ergonomics or criteria for shift planning?
Based on decades of research on the effects of working hours on employees (safety, health, social well-being), recommendations were drawn up for shift planning (e.g. by the Federal Institute for Occupational Safety and Health, BAuA):
As little night work as possible, max. 2-3 night shifts in a row

The direction of rotation should be forward, i.e. from early to late to night shift.

Shortly rotated shift plans, i.e. max. 3 identical shift types in a row

After a night shift block, sufficient time should be allowed for recovery and re-synchronization. It is recommended to have at least 48 hours off, sometimes one day off per night shift worked (i.e. three days off for three night shifts).

Avoid working more than 40 hours per week on average

Adapt working time length to the load (e.g. avoid working times of more than 8 hours per day for stressful activities)

Ergonomic break design, if necessary creating possibilities for napping at night

Avoid weekend work as much as possible, spend your free time on weekends together

Do not start the early shift before 6:00 a.m. (an earlier start has the effect of a night shift, due to the early time of getting up).

Give employees room to manoeuvre

Working hours that can be planned and foreseen as far as possible, avoiding short-term changes
...browse here through our own publications on the topic!
Are there standard shift plans that I can adopt?
Your business is individual, just like your employees. There is therefore no One-Size-Fits-All Plan. Rather, a precise analysis of the current situation, goals, and suitable alternatives is required before selecting a suitable plan. Our software, the XIMES SPA - Shift Plan Assistant , can support you.
What good solutions are there for fully continuous systems?
How long does a shift schedule change project take?
There is no standard duration. Changing working times is a longer process, which can take a year or longer if different options are thoroughly analysed and evaluated.