TIS - Time Intelligence Solutions
Software for your Business Analytics
combines the advantages of Excel and statistical software
Use TIS to evaluate your company data as you need it. TIS provides analyses of sales, production quantities and customer volumes, right up to the working hours performed by the workforce. Results are displayed in interactive graphs, automatic reports and customizable dashboards.
Build your own applications quickly and easily with the intuitive user interface and without programming effort! You can use TIS efficiently as an intelligent universal tool, e.g. for forecasting, determining personnel requirements and controlling personnel deployment.
NEW! Get to know TIS 6.0 in our webinars!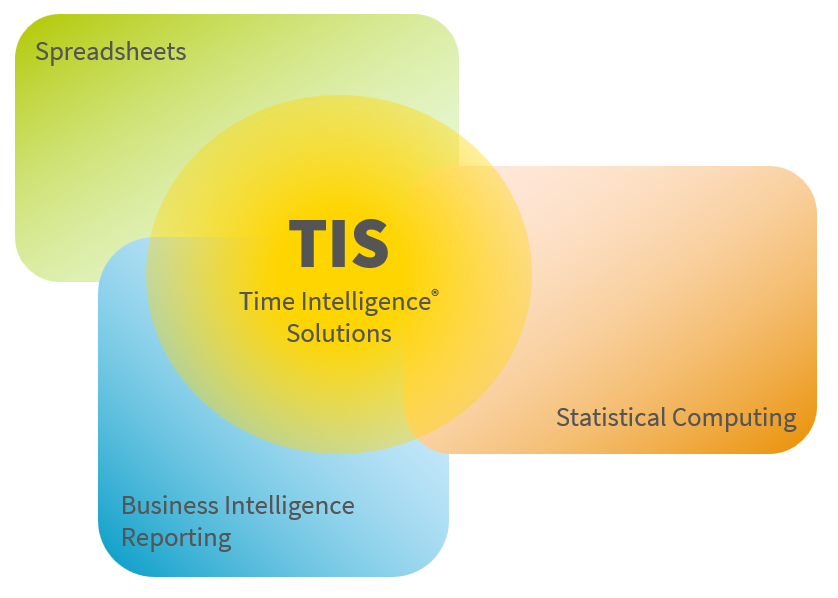 TIS Solutions
Our software solutions for analyzing your company data

Stable arithmetic
TIS calculates with whole tables, no annoying copying of formulas.
Graphical programming
Describe what the customer wants to know,
not what you want to show.
Dashboard
TIS Board visualizes your data and evaluations in tables and graphs as a web-based interactive user interface.
Time-related data
TIS can calculate with time-related data, intervals and calendars to easily determine staffing levels or full-time equivalents (FTEs).
Reports
With the integrated Report Designer, you can design your own reports. Reports are available on the Web and can be exported as PDF and other formats.
Automation
Automate your tasks time- or event-driven. Automatically generate and email reports daily.
Interfaces
TIS can import or export your data from Excel, CSV, SQL or proprietary systems.
User permissions
Protect your data and determine access rights in the desired level of detail. Connection to ActiveDirectory or LDAP possible.
Multi-user capability
Distribute your reports easily and quickly across the enterprise with a web-based user interface.
Python scripting
Python is available both for processing data in TIS and for controlling TIS.
Send email
Calculation results or notifications can be sent by email via a connection to an SMTP server.
Languages
The user interface and TIS programming is available in several languages.
Statistical methods
TIS helps you to use statistical functions in a simple way, from simple averaging to linear or seasonal regression.
Scaling
TIS grows with your business through powerful database backends and system architecture.
Extensions
TIS is an open system and can be adapted and extended to meet your requirements so that it integrates optimally into your infrastructure.
Suitable as clients:
Microsoft® Internet Explorer 11.0 or higher
Microsoft® Edge 15 or higher
Firefox® 52 or higher
Google® Chrome 49 or higher
The server requires:
Microsoft® Windows Server 2012 R2 (64bit) or 2016 (64bit)
IIS 7.0 or higher

.NET Framework 4.6.1

Visual C++ 2015 Redistributable Update 3 x64 (14.0.24212)

Visual C++ 2013 Redistributable Update 5 x64 (12.0.40649.5)

Python 3.6

One of the following databases:
Microsoft® SQL Server Version 2012 SP1 or 2014 SP2

Oracle Version 12c Release 2

PostgreSQL version 9.6 or higher