Organizing work efficiently and in a fair way - even when it's difficult
XIMES Consulting, Software and Knowledge We believe that profitability and good working conditions can be combined. We therefore advise and support companies and social partners in the design of working time models, shift work, the calculation of personnel requirements and the development of wage and salary models.
Close connection between practice and science is very important to us, so that the latest findings can always be incorporated into consulting and development.
Offers and expertise at a glance
Working Time
Find sustainable solutions with us for the design of working time models, from analysis to implementation and evaluation

Workforce Requirements
Let us support you in the analysis and calculation of your personnel requirements, from evaluation to forecasting

Wage & Salary
Calculate and compare wage and salary models, bonus systems and variable remuneration or changes to collective agreements with us

Consulting
Learn more about our participation-oriented consulting approach and innovative methods we use to find sustainable solutions together with you

Software
Discover our software for shift plan design, staffing calculation and business analytics and find your solution

Know-How
Expand your specialist knowledge in the XIMES Academy, browse through our articles and books or investigate your research questions with us

Branches
Whether classical production, health care, service, trade, public service ... we consult world-wide with emphasis on the German-speaking area

References
Find out here who is already a happy XIMES customer and browse through our consulting examples with various case studies

XIMES Team
A highly motivated team of consultants and software developers is at your disposal.

Overview of top software products
Our software assists you with shift scheduling and work hour planning (SPA - Shift Plan Assistant), personnel requirement calculation (OPA - Operating Hours Assistant) and business analytics (TIS - Time Intelligence Solution):
Consulting for working time arrangements
Find the best schedule with our expertise
In consulting we take into account your operational requirements as well as labour law, the latest scientific findings with regard to ergonomic shift work design and employee preferences. We guide you through the complexity and help you to find suitable working time models, shift plans or flexitime agreements.
Would you like to work on topics yourself? In the XIMES Academy, we offer extensive qualification and further training opportunities in the areas of working hours, personnel requirements and wages and salaries.
Top consulting products on working time arrangements
Shift Work
Optimising shift schedules for all scenarios - from continuous operations to flexible shift schedules

Flexitime
Training and consulting on introducing flexitime, including drafting agreements

Flexible Working Hours
Consulting and schedule planning for flexible arrangements as a win-win solution
Reserve and Absences
Developing a plan on how to handle absences and lost time of employees

On-Call / Stand-by Duties
Analyse work and non-work periods, and improve shift scheduling for on-call or stand-by duties

Qualification and Courses
Seminars, courses and events about working hours and shift work in the XIMES Academy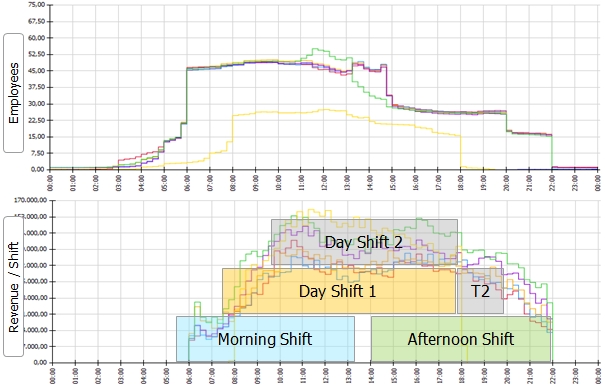 Consulting for workforce requirements
A solid base for planning
"...I would have needed more employees..." should never have to be said again! We support you in determining relevant factors for your personnel requirements, calculating necessary personnel and demand forecast for future periods. We use existing company data (so-called Big Data) for personnel demand and workforce analysis. Most importantly we take into account the actual and planned performance, personnel resource planning (what was planned and how were actual working hours?) and other influencing factors.
Our knowlegde about statistics combined with working hour scheduling provides a solid calculation that meets your daily requirements.
Top consulting products for staffing requirements
Personnel Demand
Analysis of factors influencing the demand, calculation of requirements and absences across times and days.
Staffing Requirements
Calculation of how many personnel are required at what times, including qualification and reserve planning.
Activity Analysis
Find the relevant contributors to work load and analyse tasks and activities with our mobile devices.
Personnel Forecast
Consulting and software for predicting personnel requirements for long and short term demands.
Annual Personnel Planning
Make use of our expertise for a solid and comprehensive annual personnel plan.
Personnel Demand in Retail
We support your retail business with specific solutions to calculate staffing requirements and personnel budgets.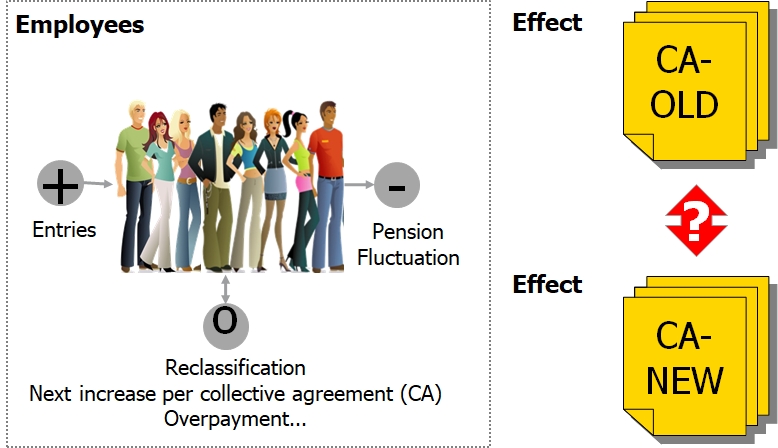 Consulting for Wages and Salary
Examine and calculate your remuneration models with us
We support you in estimating income trends and the resulting costs in a comprehensible and detailed manner. Instead of vague "global" estimates, we create clean and meaningful models. Our services include
professional support

workshop moderation to find your optimal remuneration model

simulations of economic results of potential changes

support during the whole process

comprehensive and transparent documentation
Top consulting products for wages and salary
Collective Agreements
We support companies and social partners my moderating the process of changes to agreements.
Performance-based Remuneration
Expertise and software to simulate and calculate costs for introducing performance-based salary models.
Piece Wage and Premiums
Consulting and software to support the introduction or change of piece wages or premium wage models.
About Us
We work with you to solve difficult questions!
Many years of cross-industry experience in working time and remuneration consulting are our best feature: What's more, we're the specialists. Our books based on practical examples are classics. Our international experience spans more than 1,000 projects in the public and private sector. We are well connected in the scientific community and contribute to knowledge with our own research projects. We don't have "one system" to make everyone happy, but try to find suitable solutions for each individual case.
Strategically, we have been working for many years with an appropriate mix of specialist and process consulting. In both cases, software support can offer additional advantages. In addition to new technical solution approaches, we also develop innovative methods to accompany the process, such as our power session design for projects with many decision makers who have very little time resources.
Our software facilitates the development and evaluation of alternatives and planning approaches. It is used by many internal and external consultants, trade unions and employers' associations. We don't have "one system" to make everyone happy, but are looking for suitable solutions - flexibility and adaptability are accordingly part of our central goals. We use and develop special procedures and consulting methods adapted to the complexity and minimization of conflict risks. We always try to consider economic efficiency, ergonomics, law and the wishes of the parties involved.
Depending on the situation and preference we offer:
Software as license

Software for rent

Software as a service (SaaS)